What Are The Best Domain Registrars in 2021? An Ultimate List
When an idea sparks for a brilliant website, of course you'll want an awesome domain name to go with it.
After all, your domain name will be the first thing others will remember of you.
But there is ONE problem:
Which domain registrar should you choose? If you're wondering what is the what is the best domain registrar on the internet, then you've come to the right place.
Below is the ultimate list of of the very Best Domain Registrars in 2018 as well as 2018. This list is focused mainly on the best services, taking into account your various needs and requirements. This post is not only based on my experiences with these registrars, but also backed up with hours of researches online.
What Are The Best Domain Registrars in 2018?
Below I've shortlisted the top 10 of the best domain registrar services online, rating them with various criterias such as reputation, ease of use, price etc. (you can read more about my ranking criteria at the end of this post).
Alright, I hope you'll find the most suitable domain registrar service for you!
Side note: Domain registrar services usually come with a lot of minor and temporary discounts, price changes etc. so it's quite impossible to narrow down its' exact pricing. However, I've tried my best to update with post for the most recent price variations as of March 2018. After you've found your best domain name, I've included a button next to each services for a quick guide on how to buy and setup your domain name.
Also, this list only focuses on 10 of the very best domain names and who they're suited for, if you want to look into more domain name registrar options, check out my post below.
((Additional reading: 15 Best Domain Name Registrars in 2018))
Another point you may want to note is that there is a difference between "pure" domain registrars that offers domain names only as opposed to some web hosting services that offers a free domain name (for at least a year!) Both of these choices can be beneficial and money-saving depending on your circumstance hence I've included both types of services on this list. Choosing a hosting package will save you from having to buy and setup your domain name for as long as they are free, but they tend to cost a couple of dollars more the years later.
This means renewing your domain name with a hosting company might cost you around $15 per year, while a "pure" domain registrar may only cost you around $10 per year.
It takes only 10 minutes to get your own domain name, that said, not all domain name registrars are the same. So before choosing a service, it's important to check if they at least offer these key features
24/7 technical support,
live chat facility,
security,
pricing and renewal rates.
All of the services mentioned on list list has these features as a base. So to speak, you can purchase a domain name from various forms of service, from a direct purchase from a registrar to rebuying it from a marketplace to getting one for free from a web hosting package (this is a perfect choice if you are also looking to build a website from the grounds up!).
Below, I've listed out all the best domain name registrar options to fit your needs.
Well then, let the ranking begin.
1. NameCheap – The best domain registrar in 2018
Cost: $1 ~ $15 per year
Official Website: NameCheap.com
As its' company name suggests, NameCheap's mission is to offer quality service at an affordable cost. And after almost two decades, since its' foundation in 2000 by Richard Kirkendall NameCheap stands as one of the most recommended domain name registrar on the internet. On LifeHacker.com, NameCheap is chosen as the best domain registrar of choice by users with a dominating 38.34% of the vote.
NameCheap a well-known host with sound reputations that offers domain names to both individual and businesses, with a huge range of TLDS (Top Level Domain Names) to choose from, from the most basic ones like .com, .org to .tech, .club, .world and more. While I would still recommend .com domain names, having a specified TLD to your particular business segment is a great idea as well.
This is where I host all of my domain names at the moment, including my blog. 🙂 I've had great experience with their service as well as support. Their chat support can be reached within seconds every time which is quite a feat for a company this large with such customer base. That said, some folks may want to know that NameCheap only offers chat support and no phone line. While this suits me just fine as an international customer who prefers online communications, it may be something you want to consider.
NameCheap's domain names starts at only $10.69 per year for a .com domain name, some other TLDs costs only $0.88 such as .club or .site. NameCheap also offers a one year free WHOIS Guard service (with a renewal price at as low as $2.88) which allows you to hide your identity and contact information as the domain owner. The best part about NameCheap compared some other popular registrars is they they don't come with annoying upsells and NameCheap assures that you can pay for their service each year at the same price instead of hacking you on their renewal prices.
Along with their domain registrar service, NameCheap has also started to offer hosting plans for your blog or website, starting at as low as $9.88/year, where you can host up to three websites. That said, I don't recommend you use NameCheap's hosting services since they are still new in the hosting scene.
Who is NameCheap for: NameCheap is a great choice for anyone looking for a personal domain name. Either you are a business or a hobbyist, NameCheap is a great deal for their ease of use, fast checkout process and domain name setup. All of that, at an affordable cost. Sure, there are some cheaper deal than NameCheap, but none I've come across has a better service to quality offer. Overall, NameCheap is a safe, swift and easy-to-use process, packed with fast and intuitive support.
Visit NameCheap    Guide to buying domain names
2. BlueHost – The best web host, with one free domain name
Cost: Web hosting package, starts at $3.95 $2.95 per month (exclusive discount for my readers)
Official Website: BlueHost.com
BlueHost is a bit different than NameCheap and is not solely a domain name registrar but a complete hosting package that offers a free domain name for a year when you use their hosting services. With this bonus, you can save some extra money on your domain name as well as the effort to buy and set it up for your site.
That said, it's not the reason why BlueHost stands at number two in this list. Being one of the most well known web hosting on the internet, BlueHost is recommended by a great number of influencers from online marketers to bloggers such as Pat Flynn, Michael Hyatt, Ramsay Taplin and even WordPress themselves.
Pat Flynn
Smart Passive Income
All of my niche websites are hosted on Bluehost.
Why?
Because they make it incredibly easy to get a new site up and running with their one-click automatic WordPress Blog installation.
You can use the form below to quickly check for an available domain name and register it with BlueHost.
So whether you want to create a blog, or an eCommerce site, BlueHost has it covered. Started back in 2003, BlueHost rapidly accumulated a good reputation for their sound support and affordable price, starting at only $3.95 per month. BlueHost is especially recommended for WordPress users and, as mentioned above, is recommended by this dominating Content Management System (CMS) themselves. So if you are looking to build a site using WordPress, BlueHost might just be your perfect choice as both a host and domain name registrar that works right off the bat without you having to connect your domain name to your site, something you'll need to do if you bought a domain name elsewhere.
BlueHost offers a variety of hosting services such as shared hosting, Cloud Hosting, and dedicated hosting, as well as VPS, all services coming with a free domain name for a year. (That said, a drawback to registering your domain name at BlueHost is that it comes with a slightly higher domain renewal price than other "pure" domain registrars and costs around $4 more than at NameCheap.)
Another great thing about BlueHost is that they offer full 24/7 customer support, all day, everyday, which means that you can rest assured to get help even during holidays. Whenever you need a hand, you are free to call, email or chat at BlueHost.
Who is BlueHost for: If you are a blogger, a small business owner or simply want to create your own site with your own domain name, then you'll want to give BlueHost a go. With their stable and well-performed server, BlueHost is a great deal for every site owners especially since they also comes with a one year free domain name, saving you all the time on having it setup on a third party service. While it's worth noting that, a complete hosting package like this might sound like a money saving deal but their renewal price for your domain name will be around $4 more per year compared to NameCheap (though this is true with most hosting services that offers a free domain name, not just BlueHost).
Visit BlueHost    Guide to buying domain names
3. iPage – Great for small projects
Cost: Web hosting package, starts at $1.99 per month
Official Website: iPage.com
Much like BlueHost, iPage is another complete hosting package suite that offers a free domain name into the mix. iPage is one of the cheapest web host you can find, while still maintaining a sound service, starting at only $1.99 per month. With this incredible price range, iPage is a bargain for lean startups or hobbyists who wants to save up while building their sites or buying a domain name (which iPage offers for free for one year.)
For a web hosting service, iPage is quite awesome to come up with their own domain name search portal, allowing you to easily find the best domain names available. In this spirit, iPage also offers a multitude of extras for free such as SiteLock security, Free toll-free number, Site Analytics and more. Back to domain name registrations, iPage makes it pretty much a breeze for you to register your own web address as long as they haven't been taken.
iPage has been serving its' customers since 1998 and has kept up its' reputation since as one of the best low budget web hosting on the market. In addition, iPage also offers domain name registrar deals at $8.99 per year. That said, if you want to register your domain here, I'd recommend you host your site at iPage as well since you're get a free domain name anyways and their web host comes at as low as $24 per year, and that is with a 99% up-time guarantee.
That said, as the old saying goes, you get what you pay for. And with iPage, that means you won't be able to host robust sites with them, as in using a lot of storages as it may significantly slow your site down.
Who is iPage for: As mentioned above, iPage is perfect for anyone looking for a low budget host that comes with a free domain name. Starting at as low as $24 your first year (iPage's renewal price is slightly higher at …), if you are looking to build a small site for your website hobbies or simply want to save up, then definitively check iPage out. As far as affordable hosting goes, this is definitively one of the best options out there.
Visit iPage    Guide to buying domain names
4. 1and1 – Some of the cheapest
Cost: Starts at $0.99 first year, then $15 per year
Official Website: 1and1.com
1and1 is a domain name registrar that offers one of the cheapest starting prices you can find, from as low as $0.99 to $2 your first year. Founded almost 30 years ago, in 1988, 1and1 is currently handling over 19 million registered domain names under their belt for both private and business customers worldwide, and their database is still growing everyday.
1and1 is not only a domain name registrar as they also offers web hosting deals, as well as site builder, templates, eCommerce and marketing as well. As far as web hosting goes, 1and1 offers Linux and Windows hosting, Virtual Servers and Dedicated Servers. That said, 1and1 is not the best when it comes to web hosting, even though they also offers a free domain name for TLDs such as .info and .website, and their .com domain names only cost $0.99 your first year.
If you're asking why 1and1 can offer domain names at such cheap a price compared to their competitions. Great question, that's because their marketing strategy revolves around their renewal price which is around $15 a year per domain name, $4 more than over at NameCheap. While I'm not a big fan of this sort of upsells, 1and1 is still one of the best starting price you'll get for a domain name while still getting a good service and I can certainly see the appeal it may have to some site owners.
In terms of support, 1and1 offers 24/7 customer support service via their phone line, which can be a quick way to interact and get response to your inquiries. That said, some international customers may find this bothersome if they have troubles with speaking in English, as 1and1 doesn't offer any chat or email support.
Who is 1and1 for: Like iPage, 1and1 is another low budget option for those who want a domain name at the best prices while still receiving decent services. 1and1 has a well-sounded reputation over their three decades in the business, although I wouldn't recommend their hosting services as found you can find better elsewhere. 1and1 can be a great option for hobbyists who want a cheap domain name to start out. That said, 1and1's renewal prices comes at a few dollars more expensive down in the years, so if you are looking for a long term solution, this is not the best option.
Visit 1and1    Guide to buying domain names
Cost: Web hosting package, starts at $5.99 per month
Official Website: InMotionHosting.com
Ranking top on several renowned hosting review sites such as WhoIsHostingThis as well as amassing over 35 awards for their top of the line service, InMotion Hosting is well known for their service, performance, security and privacy as well as web practice.
As a domain name registrar, InMotion Hosting domain name service only comes at $14.99 per year, a decent price, especially if you use their hosting service as their will save you some time in setting up your domain name and, of course, it's always good to be able to manage your domain name and web host in one place. InMotion also offers additional services such as cloaking your domain ownership information from the publish with WHOIS privacy for only $9.99.
Surely, InMotion is neither the cheapest host or domain registrar, however, their stellar service more than make up for the $2 to $3 price difference, as you'll be given a stress free, on-time support service. If you consider registering a domain name under InMotion, I suggest you also use their hosting service as you'll get a free domain name for a year.
InMotion Hosting is an all-in-one service that has everything you need to establish your online presence from web hosting, domain name registration and more. To further boast their quality service, InMotion Hosting offers an up to 90 days money back guarantee, no questions asked, if you are in anyways disappointed with them. And with that, InMotion Hosting has the widest array of supports available from Skype, to live chat, to phone, to emails, which ever way you feel most comfortable with, you can reach a support team members with all sorts of questions, including technical supports as well.
Who is InMotion for: InMotion Hosting is one of the most stable and well supported host and domain name registrar you may find. They don't sell by being the cheapest, but by offering the best quality service out there. So if you are looking to build your new site, your own domain name for the long term then InMotion Hosting is a great choice, offering the mostly the same price year round, without all the upsells that you usually see in the hosting or even domain registrar market.
Visit InMotion Hosting    Guide to buying domain names
6. HostGator – Solid and affordable
Cost: Web hosting package, starts at $3.95 per month
Official Website: HostGator.com
Hostgator is known for as an excellent domain name registrar and hosting provider at an affordable price. Used and trusted on over 9 million sites worldwide, HostGator is especially compatible with the WordPress CMS and is well recommended by bloggers and site owners.
Founded back in 2002, HostGator takes no time in establishing themselves in their market as a rock-solid and bandwidth heavy host. In later years, HostGator started offering domain names as well to go alongside their various hosting services, starting at an affordable range of $12.95 per year for a .com domain name, this is a great price for a package of domain name plus hosting, considering that HostGator will help you with all of the setup and redirecting your domain name to your host (this is quite an easy process but it does save time and a lot of stress to the non-techies!). Aside from this. HostGator also offers services such as domain privacy at $12.95.
Hostgator is especially ideal if you are looking to have all of your services and site management in place; a solid web host with a satisfying domain name registration service. Hostgator offers a round the clock customer support service, 24/7/365 as well as as toll-free support phone number, in addition to live chat and a ticketing system so that you can always ask for help whenever you need.
Who is HostGator for: As mentioned above, HostGator is a solid and affordable choice for both hosting and domain name registrar if you are looking to have them in one place. They come at a competitive price to BlueHost, and offers some slightly cheaper domain name deals that you may want to look into. All in all, this is a great choice if to build a site you'll love without compromising on its' quality, uptime and speed.
Visit Hostgator    Guide to buying domain names
7. GoDaddy – Best known domain registrar
Cost: $2 ~ $10 per year
Official Website: GoDaddy.com
GoDaddy is one of the oldest and pioneers of the domain names industry, established in 1997 and originally known as Jomax Technologies. It's no wonder that GoDaddy has become one of the world's largest domain name registrar company in the world.
In terms of service, GoDaddy offers a wide range of TLDs (Top Level Domain Names) such as .us, .biz, .info, .net, .org, .ws, .name, .tv, .co.uk, .me.uk and .org.uk, amongst others (that said I'd suggest you stick with .com as we internet users are way too familiar with them now). Line 1and1, GoDaddy also comes with one of the cheapest domain offers you can find for a .com domain name, starting at only $2.99 your first year (though their renewal rate is actually higher than other registrars at $14.99 per year, ending up a few dollars higher than over at NameCheap in the long run). GoDaddy also comes with extra services such as WHOIS Guard, that allows you to hide your name, address, contact information, as the domain name owner from the face of the public for a pretty affordable price at $7.99 per year.
GoDaddy also comes with great features to recommend you domain name ideas based on your chosen keywords, this is a useful tool especially if you are not sure which domain name to choose, or the ones you want are already taken. In addition to domain names, GoDaddy has also started providing hosting services starting at $3.65 per month for shared hosts. That said, since GoDaddy is still new on the scene of web hosting, I'd recommend you stick with the more renowned ones like BlueHost or InMotion Hosting.
Another thing you'll want to know about GoDaddy is they are are pretty adamant about offering several upsells once you become a customer, on features that are actually not necessary. While you can just ignore these offers, it can be quite frustrating. As for customer support, GoDaddy has an industry standard of 24/7 support at all times via phones and email. They also offer live chat, but only within some specific hours.
Who is GoDaddy for: If you have used the internet in the last 10 years, you'll probably have heard of GoDaddy, this is easily the most well known domain name registrar out there. They offer domain names at a pretty affordable price and is great for starters who want to save up on their site. That said, do note that GoDaddy does come with a number of potentially annoying upsells and their renewal price is more expensive than elsewhere, like at NameCheap.
Visit GoDaddy    Guide to buying domain names
8. Name.com – Reputable domain registrar
Cost: $10 ~ $20 per year
Official Website: Name.com
Name.com was founded in 2003 by Bill Mushkin and soon has amassed a reputation for itself in the field of domain name registration as well as web hosting. Their domain price starts at a satisfying range of $10.99 per year, and their web hosting service at $4.99 per month, though they are mostly known as a domain name registrar service. Other than that, Name.com also offers a number of other services, including SEO tutor, Website Builder, One-click WordPress Install, SSL certificates, Email services, Google Apps for work and more.
Unlike other registrars like 1and1 or GoDaddy, Name.com is not a low-budget provider, but a quality one with sound service. Name.com also offers a lot of additional services such as SSL, which is crucial for eCommerce website at only $9.99 per year. Name.com also offers an affordable WHOIS Guard service at $4.99 per year, a great deal to protect your privacy on the internet.
Something unique about Name.com is that they also provide SEO tutor, which will provide you with your competitors' information in order to help increase your online visibility. In terms of customer support, Name.com offers email and a ticketing support system as well as phone support, although their phone line is not always available.
Who is Name.com for: Name.com is a domain registrar that's roughly at the same price range as NameCheap, that comes with a great deal for additional services such as WHOIS Guard and SSL certificate. With a satisfying support system and quality service, Name.com is worth checking out if you are looking for a place to host your domain name long term (that said, I don't necessarily recommend their hosting service since there are better, more renowned services you can find elsewhere).
Visit Name.com    Guide to buying domain names
9. Register.com – One of the oldest registrar
Cost: $10 ~ $20 per year
Official Website: Register.com
Like GoDaddy, Register.com has been in the industry of domain name registrars for a long, long time, since 1994, in fact. It's no surprise that Register.com has become a huge registrar during that time and is currently managing millions of sites and blogs on their hosting service, as well as two million domain names.
Register.com pride itself in being an easy to use service that allows you to quickly and efficiently buy and setup your domain name, whether or not you use their hosting service. All you need to do is simply to type in your desired domain name, add them to cart and that's it. For an additional of $10, Register.com also offers privacy services such as WHOIS Guard to keep name and contact information as the domain name owner hidden from the face of the internet.
Register.com offers a 24/7 customer support service via phone and email, whichever way you prefer. Although some users (myself included) prefer to have a live chat option available, Register.com makes it up with huge knowledge base, walkthroughs and FAQs so that you may find the answer to your question without having to bother waiting for support.
Who is Register.com for: The appeal for Register.com might just come from its' established reputation as well as easy to use interface. With an affordable price and an easy to use interface, I think Register.com can appeal to more non-techie users who wants to quickly get themselves a domain name and set it up to their existing site.
Visit Register.com    Guide to buying domain names
10. DreamHost – Affordable registrar and hosting
Cost: $11.95 per year
Official Website: DreamHost.com
DreamHost, like BlueHost and iPage, is another all-in-one hosting package. Recommended by many WordPress users, DreamHost is also known as being one of the better domain name registrars in the business. Their domain name offers comes at a reasonable and affordable price of $11.95 and their hosting service at $8.95 per month. While you may think that their hosting service is a few dollars more than other services like BlueHost, that's just because DreamHost doesn't offer a cheaper starting price, which means you will be able to pay for the same price years round, instead of being taxed on renewal rates.
DreamHost is also quite unique in offering a money-back guarantee that spans for up to 97 days, the amount of refund time you will probably find nowhere else in other hosting companies.
As for customer service, DreamHost is very well praised by its' users for a support team that you can reach 24/7, via phone, emails, or even Twitter.
Who is you DreamHost for: DreamHost is a good complete hosting package and is suitable if you are looking to have your domain name and website under the same service, and especially if you don't want to meddle with all the little price changes that cames with having a cheaper starting price. Also DreamHost is great if you are looking for a host with a decent support team that you can quickly reach, especially via phone, to resolve your issues.
Visit DreamHost    Guide to buying domain names
Bonus: How to buy a domain name for your website
Have you found your domain registrar of choice? Awesome!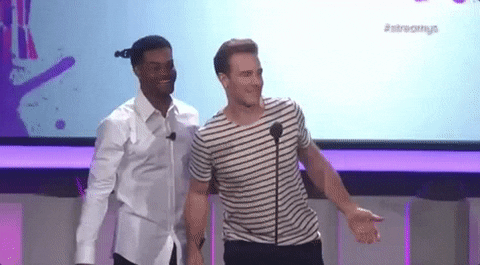 Below is a little bonus I've written up to help you register your domain name quickly, especially if you are a non-techie or are new to all of this site building thing. 🙂
Whether you are building your first company website or creating your first portfolio, hobby blog, it's always great to have your own domain name to link to your project, to which others can easily access (an awesome domain name like Bloggingthing.com!)
Unlike social media sites like Facebook, Twitter, Blogger, LiveJournal, Behance or even Tumblr, owning your own domain creates authority and a more professional brand than anywhere else. Arianne Foulks wisely puts it intelligently:
Have your own domain name even if you have other web presences.
Why would you need a domain name?
Before we dive deeper into the hows, let's take a moment to consider the whys (if you already know, feel free to scroll down where I'll help you setup your domain name in only a few minutes!)
In short, by buying a domain name, you're essentially registering a web address through the ICANN organisation, or specifically the the Internet Corporation for Assigned Names and Numbers. To do this, for example, you want to register a domain name called my-domain-name.com, you'll need to use a service from an intermediate domain registrar company and pay them an yearly registration fee (usually ranging from $5 to $20 per year, of course, given that your domain name of choice has never been registered before). This will give you the access to this domain name and to be able to set it up for any sites that you see fit. With that comes several benefits such as
Giving your brand or blog more credibility than just the normal social media extensions. It's more easy to take someone at my-brand.com to be more serious with their work then someone at my-brand.tumblr.com!
It's much more easy to remember and less of a pain to type into you and your audience's address bar.
The best part, though, is at how cheap you can get your own domain name! For only around $10 and you can get your own domain name just like any other big brands.
What is a domain name registrar?
To simplify, a domain name registrar is a third-party service that allows you to purchase and register domain names online. All domain registrars have been officially recognized or authorized by the Internet Corporation for Assigned Names and Numbers, or ICANN for short, which is a non-profit organisation delegated for the responsibility to manage all domain names on the internet.
This Domain Name System actually replaces the good old IP addresses, so instead of having to type incorrigible numbers to go to Google.com, you'll have an easy-to-remember word to remember it by, a much more efficient way to navigate online.
So nowadays, for example you want to build a website to sell fashion bags and wants to get the domain name fashionbags.com (of course, to register any domain names, you need to make sure it's actually available), then you'll need to seek a domain name registrar like NameCheap or hosting packages like BlueHost (which offers you a free domain name for a year!).
This is where you can check your domain name availability as well as choosing your Top Level Domain Name (TLD) of choice such as .com, .org, .co, .io, etc.
How to buy a web domain name step by step
I guess you're ready to register your domain name? With no further ado, let's get started.
Choose below way do you want to register your domain name:
Whether you just want to buy a domain name for your existing site,
Or you want to build a site from scratch and get yourself a domain name for it?
In case you can to build a site from the ground up and also get yourself a domain name for it, I strongly recommend you choose an all-in-one hosting package like BlueHost which not only offers quality web hosting at an affordable price but also give you a free domain name for up to a year(!) This is especially a great deal when you don't need to do all the setup and redirecting for your domain name and best of all, you'll be able to manage your domain name and host at the same place. Although the renewal price of BlueHost's domain names are a few dollars higher than "pure" domain registrars, it's quite worth it to save up on the hassle. Click here for a throughout guide on how to build a website and setup a fresh domain name at the same time.
On the other hand, if you just want to buy a domain name for your already built site, or you need to save up a little on renewal prices for your domain name then read on and I'll show you how to setup your domain name at lightning speed.
This is a very simple process and all you need to do is follow these three steps that I will detail below along with screenshots and throughout explanations
Come up with your domain name(s)
Register it with a domain registrar
Setup your domain name for your site
Step 1. Come up with domain name ideas
One decision that you'll have to live with for quite a long time is the domain name of your website.
This step is for the majority of us who hasn't come up with a domain name yet or our best choices all came up unavailable. (If you've already had an available domain name idea in mind, click here to skip to the next step.)
Don't worry, it happens to the best of us.
Do you know that there are over 334.6 million (source) registered domain names out there as of 2016? Well, that's the reason why all of those names you thought of are taken. And this is why it's so crucial to brainstorm for as many domain names as you can and trying different combinations of words.
Take all the time you need to come up with a satisfying domain name for yourself, especially since you're going to stick with it for quite a while. Your domain name will be how others refer to, and if well chosen, it can be an inspiration source for you to keep chirping at your project, whether it's a big or small one.
I've found it's easy to come down complaining about how all of the best ideas you have are taken. But then again, that not really true; the most generic ideas are taken, but the original ones certainly aren't. There are an infinite amount of word combinations and an infinite amount of compelling names, all you need to know is how to find them.
A great way to start is to grab a piece of paper, or open a new Word document and just start writing all of the keywords you want in your domain name, all of your ideas as quickly as you can. Then you can just go over that list and try out different combinations, to come up with your top ideas.
A wise friend of mine, Xue from Wealthy Affiliate have a nifty list of the top 12 tips on how to choose your own domain name. Below, I've highlighted the most important pointers for you.
The rules of thumb to choosing your domain name:
Brainstorm and combine from at least 5 of your most relevant keywords.
.com are still the best, it's the easiest to remember and, I daresay, an industry standard. It's fine to break this rule, as long as you have a great idea to back it up.
Easy to type, we don't want to have to type some awfully hard to remember, or super long domain names, really.
Easy to memorise. Well, folks need to remember you to come back to your site, right? So don't go for something like fkjsdfhds.com. 😛
Be as short as possible. The less time your audience has to spend typing your domain name the better.
Stand out through branding. 99design and Fiverr are some great examples or domain name branding.
No hyphen and/ or numbers. Unless, of course, you have a good reason for this. 99design.com sounds awesome but anh-nguyen1994.com sounds like a teenagers' glittery website.
The fastest way to check for domain availability
Now that you have a list of your most prized domain name ideas, it's time to check for their availability. There are several ways to go about this, either you type each one into a domain name registrar search console, or manually visit each site. Either of these methods are tedious and time consuming.
The best way to go about this in my experience is to go to InstantDomainSearch.com, as their name suggests, this site will help you quickly check domain availability within seconds as well as giving you several domain name suggestions that are available. And all of this for free!
Bustaname.com is another great tool to brainstorm and find domain names. Just enter your prefered keywords, and Bust A Name will help you come up with all sorts of domain name combinations.
Step 2. Buy your domain name
Perfect, now you've had your domain name of choice. Let's quickly register it before someone else will.
Go to your prefered domain name registrar, for the sake of simplicity, I'll use NameCheap as an example (this link opens in a new window so you can reference the guide as you work through this process). Other domain name registrars also has more or less the same process so you can still follow along.
Now you just need to type in your domain name and choose a Top Level Domain Name (TLD) such as .com, .org, etc. (again, if you don't have a strong reason for this, I recommend going with .com).
And since you've checked your domain availability in our step 1, you'll know that your domain name is yours for the taking and will be directed into a new page with big blue letters that read "This domain is available!" like below.
Continue by clicking on the black shopping cart icon on the right to add your domain name into your buying cart.
Next, click on the View Cart button.
Now NameCheap will show your domain registration price etc. as well as other additional services you can get. These are not necessary and I recommend you skip them, unless, for example, you want to enable the mail account service that allows you to send and receive emails with your domain name extension (for example, my email is anh@bloggingthing.com).
There is also a free one year WHOIS Guard that you may or may not keep, this will help you cloak your online information as the site owner from the internet.
Should you enable the WHOIS Guard service?
In case you are confused about this service, here is a quick explanation of what it is and whether you'll need it or not. WHOIS Guard is basically a domain privacy cloaking service that helps keep your name, email address, house address as well as other contact information from appearing when someone searches for the ownership of your domain name. The good thing about this service is that you can avoid sharing your personal information.
That said, by enabling this service, your registrar will put their own information as the domain owner instead of yours. And this comes at the cost that in the eyes of international domain registry organisations like ICANN or CIRA (the Canadian Internet Registration Authority), your domain name actually belongs to your registrar (as that is the information displayed) and not you, seeing as your real information isn't listed, all Terms of Service notwithstanding. Your domain registrar basically owns your domain name on your behalf and if it ever comes down to any kind of dispute under the law, there will be no case to be made. Your registrar owns your domain name.
All in all, this comes down to how important the ownership of your domain is to you, as a hobbyist, you may prefer keeping your information private, but as a business owner or entrepreneur, you may want to disable WHOIS Guard. And in case you're wondering, I don't enable WHOIS Guard for over a year and never received any spams or any problems of the sort.
After you've confirmed your settings and domain name, NameCheap will take you to the Create An Account page, where you need to register in order to manage your domain name in the long run.
All you need to do is to fill in your information like in any other registration form with a working email address (so that you cen verify and activate your NameCheap account) and then click on the Create Account button and then Continue.
Next, you'll be directed to the checkout page. Here you'll be offered three different payment methods available at NameCheap
Secure Card Payment,
to PayPal,
to Account Funds.
Just select the one you prefer and click Continue where you will be directed to another window to fill in your card or Paypal account information in order to complete your payment. Here, I'm choosing Paypal and only need to click the yellow Checkout with Paypal button then fill in my account credentials to complete my transaction.
Psst—
I've found this nifty video guide on how to sign up for a NameCheap domain name. If you want prefer a video tutorial rather than a written one, then do check out this video by Youtuber Pete's Results that shows you exactly the step by step on how to buy your domain name.
Step 3. Setup your domain name
Congratulations on getting your domain name! Now it's completely yours to use on whichever site you like the way you like it! 😀
Before you go ahead and celebrate, here's how you can setup your domain name on an existing web host.
If you are hosting your site at another web hosting service like BlueHost, you'll need to find your host's "primary and secondary nameservers". TO do this, head over to Google and type "[Your host name] primary and secondary nameservers". These nameservers basically look like this (the ones below are BlueHost nameservers):
ns1.Bluehost.com
ns2.Bluehost.com
In case a quick search doesn't turn up your hosts' name server, simply contact their support team to find out.
Now, there is no need to understand what these means, just copy and paste them into the appropriate files on your domain name registrar's control panel. To do this, you'll need to go back to NameCheap and login, if you aren't already logged in, then click the Manage button next to your domain name on the right corner.
A new page will appear, scroll down until you find a section that's called Nameservers:
From the dropdown menu, choose the option called Custom DNS. Next up, fill in your nameserver information. BlueHost nameservers are as follows:
ns1.Bluehost.com
ns2.Bluehost.com
Click the green check mark button on the right.
And you're done directing your domain name to your site!
Normally, it will take around 24 – 48 hours for your domain registrar to successfully point to your site (in my experience it can also be much faster, even within hours, but this is the standard protocol).
((Additional reading: How to Create a Blog with WordPress (Step by Step)))
*** Ranking criterias
Below are the exact criterias I used to rank this list of domain name registrars. When it comes down to it, the number one determining factor of a great registrar is its' ability to help you to quickly register and manage your domain names. I've ranked these registrars mainly on their quality to service criterias as well as adding a variety of price range and options, that said all of them meet the following minimum standards.
A sound reputation – This goes without saying, and I'm mostly looking at international reputations instead of local ones, since there seem to be some great local domain registrar deals, that said, this list only cover worldwide domain name registrars.
No hidden fees – I don't know about you, but I've always hated to have hidden fees thrusted into me, especially when I don't see it coming at all. So I tried to be as clear as I can on the pricing, upsells as well as renewal prices of each of these registrars in order to assure you get what you paid for.
Ease of use – Not all of us are techies, or even want to be one. So it's important that your registrar comes with a relatively easy to use interface, and bonus points if they come with guides to help you setup your domain names.
Reasonable price for the service offered – As you can see, I've included a variety of price ranges in this list, from under $1 to more. While of course, as a ground rule, a more costly service usually comes with better service, but there is always the option to save up on some decent registrars if you are on a low budget.
Accredited by the international ICANN – short for The Internet Corporation for Assigned Names and Numbers, the organisation that manages all domain names worldwide and any decent registrars must be officially recognized under them.
Transferable domain names – This is quite optional if you want to keep your domain name in one place and avoid the ruckus. But suppose you want to transfer it elsewhere, all registrars in this list allows that.
Domain name forwarding – This allows you to redirect your domain name to your site, a must.
Manual or auto renewal – You may want to check when you buy your domain name whether its' on auto renewal for each year or not. This helps in two ways, so you don't lose your domain name because you forgot to pay, or you don't want to keep your domain for long and avoid the extra fees.
WHOIS Guard registration – As a standard service, all registrars mentioned on this list offers WHOIS Guard privacy services that allows you to hide your personal information as well as contacts from the face of the internet.
A domain name email services – Email services will allow you to create and use domain names with the same extension as your domain name, for example anh@bloggingthing.com. A much more professional email address!
Customer support – There are times when I quit a service just because of bad customer support, and when it comes to techie things like domain name registration, you'll definitely want a decent support team to go to anytime you need some help.
Final words, wrapping it up
We've reached the end of our list of the very best domain registrars out there, I've tried to make this as unbiased and factual as I can, and only ranking it based on facts. For my personal recommendations, there are two services that I strongly recommend you check out:
The first is if you already have a site and are only looking for a domain name to stick to it, then NameCheap is a great choice for you. It's an easy to use, well supported domain registrar, that makes it lightning fast to get your own domain name at one of the most affordable prices out there, without compromising services, of course! The other best part is that unlike some other popular hosts, NameCheap doesn't come with any upsells (except for the basic stuffs like SSL and WHOIS Guard). This is my service of choice for their stress free and quality service. 🙂
On the other hand, if you want to build a site or blog from scratch, then BlueHost is quite a no brainer that comes with a free one year domain name (no setup required!). They are some of the most acclaimed hosts that's recommended allround by experts alike, a perfect host to start for any new webmasters. Notoriously affordable, stable with quality servers, BlueHost is definitively worth a try. (You may want to note, though, that their domain name renewal price is $4 per year more than over at NameCheap.)
Over to you.
Above are my personal suggestions, it's your turn to choose the best services to fit your own needs, requirements as well as budget. If you've had experiences with any of these hosts, feel free to share them with me in the comments section below. What is your one famous domain registrar and why? Which domain registrar would you like to add to the list?
If this is your first time buying domain names, which services appeal to you the most? Which one are you tempted to give a go at? If you have any other questions regarding domain registrars, feel free to drop them below and I'll try my best to answer!
Ready to start an online business? Check out my recommended resources.
---
Footnotes
1. Some services are marked as "freeish" because certain hosts, like BlueHost, offers hosting packages that comes with a free domain name for a year, which means if you purchase their hosting, you will get a free domain name without having to fiddle with all the setups. The downside though, is that their renewal prices are usually $3 ~ $4 more per year than pure domain registrars.
Disclaimer: This article is meant to inform. Some links may leads to other articles, some may leads direct to the products' vendor. Any purchase made via these links will not cost you anything extra. A little commission made will help me maintain this site and continue to provide you with valuable contents.
Also, the gifs above are from the awesome GIPHY.