How To Buy A Web Domain Name For Your Website
A domain name is like your home address on the internet.
Even if you are not a company or organisation, so long as you have a website or blog, it's always a great idea to get your get your domain name.
Like Bloggingthing.com, for example. 😀
Unlike having a Twitter or Facebook account, owning a domain name allows others to find you more easily. And giving you that much more authority in this online world. As podcaster Arianne Foulks puts it:
Have your own domain name even if you have other web presences.
Why a domain name?
Before we dive into the hows, let's take a second to ponder the whys.
A domain name gives you credibility both as a business and as an individual. Well, most of us don't ever want to work with folks at your-brand-name.wordpress.com, do we?
It's that much easier to type into your browser than, say facebook.com /profile.php?id=5500957.
Best of all, brand new domain names only cost you $10 a year.
And if you're reading this, you've probably decided on taking your online project to the next level.
Great choice!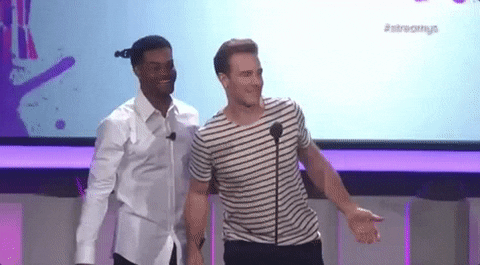 How to buy a web domain name, step by step
In this post, I will walk you through the entire process of getting your own domain name, one click at a time.
For starters, getting a domain name is simply claiming the name you want with the Internet Corporation for Assigned Names and Numbers, ICANN for short, through a domain name registrar.
If you want a name like your-brand-name.com, you will need to go to a domain registrar and pay them a registration fee of around $10 to $30. This will give you ownership for that domain name for 12 months. To keep this domain name, you will have to renew your payment every year.
So how do you start getting your own domain name? First of all, decide whether:
You just want to buy a domain name,
Or build a new site and buy a domain name.
If you want to build a new site, there are a lot of web hosts out there like BlueHost that gives you a free domain name once you sign up. Click here for a throughout guide on how to build a website, and setup a free domain name at the same time.
If you are just looking to buy a domain, then you've come to the right place. Read on to learn how to register and setup a domain name in three simple steps.
Come up with a domain name
Buy it
Setup your domain name
Are you ready?
Let's go!
Step 1. Come up with a domain name
One decision that you'll have to live with for quite a long time is the domain name of your website.
Before we go ahead to register our domain name, we need determine which one. When you are starting a new project, a good name is very important. That said, when it comes to the online world, you definitely want a domain to match your project name.
While many folks claim that all good domains are long gone, that couldn't be further from the truth. Sure, nouns and product names may be taken. But there is no need to be generic when it comes to your brand name.
Instead, unleash your imagination.
My friend Xue over at Wealthy Affiliate have a nifty list of 12 tips to choose your own domain name. I've highlighted the most important ones below:
Brainstorm from 5 of your most important keywords – Pie, baking pot, ice cream, banana, pastry dough. Can you guess my subject?
Only .com domain name – Dot com is used as top-level domain by 48.7% of all the websites on the internet. This is what we are most comfortable typing after the dot.
Easy to write – When our attention span is that of a goldfish, you don't want to bet how much time your visitors are willing to spend typing out your domain name.
Easy to memorise – Same reason as above. Economize, in fact, be as short as possible.
Stand out through branding – When they think of your brand they'll think of you.
No hyphen and/ or numbers – Your-brand123.com just won't do. Unless those numbers make sense, like Design99.
How to check domain names in seconds
If you're about to type every potential domain names on search engines, don't. Use
Instant Domain Search
(my favourite) or
Name Boy
to check names for availability and more brainstorming.
Name Boy will give you lots of suggestions and alternatives. And Instant Domain Search makes it super easy for you to check domain names availability within seconds.
Step 2. Buy it
Now that you've settled on your golden domain name, let's go ahead and grab it. Because domain names don't wait for no one, my advice is to grab it as quick as you can before someone else does. Afterall, it will only cost you $10.
There are many domain registrars out there, my most recommended and the one that I use for Bloggingthing is NameCheap – check out other domain registrars here.
To start — go to NameCheap (this link opens in a new window so you can reference this guide as you work).
Type in your desired domain name on the white box with your desired domain extension. As mentioned above, I highly recommend .com.
Because you've checked the domain name, there is no need to second guess it's availability. You'll be directed to a page with your domain name and the message "This domain is available!" underneath.
Click the black shopping cart icon on the right to add the domain name to your shopping cart.
Then click the orange View Cart button on the right.
Once you're done, you'll see your domain information and extra options. I would skip all of these and remove the free one year WhoisGuard as well.
Why not use WhoisGuard privacy services?

As a domain owner, your information and email address will be public for all to see. That's where WhoisGuard comes in with services like "privacy services", "whois masking" or "private registration", where they offer to put their information in the whois record instead of yours.

While this claims to help you prevent from spams, the important thing to note here is that in the eyes of the domain registry, whoever is listed in the domain whois record as the domain Registrant is the legal owner of the domain name. So if you use WhoisGuard, they basically own your domain name.

While it's unlikely you've end up in a domain name ownership dispute, it's better safe than sorry. In my experience, I've not gotten any more spams after removing WhoisGuard.
After you've chosen your domain name settings, you'll be taken to the Create An Account page.
This step is pretty straight forward, fill in your information with a working email address, then click Create Account and Continue.
Now you'll see the checkout page.
NameCheap allows three different payment methods including:
Secure Card Payment
PayPal (the fastest)
Account Funds
Select your prefered method then click Continue.
You'll be redirected to another page to fill in your card or account information to proceed the payment. For example, my preferred method is PayPal, so all I need to do is click that yellow Checkout with PayPal button and login to my account to complete the order.
Step 3. Setup your domain name
… And you're done.
Congratulations on getting your first domain name!
Before you go and celebrate, here's some tips on how to set up this domain name for your existing site.
If you are hosting your site at a web host like BlueHost, find their primary and secondary nameservers.
The information can usually be obtained from your host's FAQs or other documentation on their site, usually under a category like "domain name" or "DNS" or "domain name transfer".
You don't need to understand what these means.
If you can't find it, email them. You'll need the information to point your domain name to your website after you buy your domain (if you don't have a web host, click here.)
With NameCheap, after you've logged into your account, click on the Manage button on the far right, next to your domain name.
Now scroll down until you see the Nameservers section:
Choose Custom DNS from the drop down menu. Then fill your name server information, for BlueHost, they are:
ns1.Bluehost.com
ns2.Bluehost.com
Finally, click the green check mark button on the right.
It usually takes 24 – 48 hours to point your domain to BlueHost (in my experience though, it takes less than an hour).
In the meantime, click here to continue setting up your WordPress blog.
Quick note: If you are using another domain registrar like GoDaddy, I'm not sure how it works but you can always contact their support team for directions.
Other recommended domain name registrars
As our online world grows, there are a bunch of domain registrars out there to pick from. Here are a list of the best ones.
Note that there are a lot of discounts, price changes etc. when it comes to domain names, so it's impossible to come up with a universal price. That said, I will try to give you a common price for each registrars.
As mentioned above, most of the best web hosts out there will give you a free domain name your first years of hosting with them. So if you are creating a new site altogether, read this guide to learn how to build a website and grab your free domain name.
Final words
The best domain names wait for no one.
If you've found one that really tickles your fancy, do give it a go so you won't have to regret later. Fortunately, brand-new domain names is that they come in such a cheap price, at less than 1 buck per month.
I hope this post has helped you register your dream domain name.
Feel free to drop a comment if you have any questions about domain names, I'll try my best to answer!
Ready to start an online business? Check out my recommended resources.
Gifs are from the awesome GIPHY